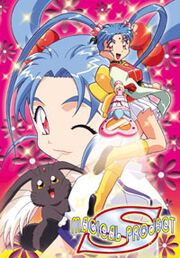 Magical Project S, known in Japan as Pretty Sammy (プリティサミー, Puriti Samī), is a 26-episode anime television series directed by Katsuhito Akiyama and produced by AIC and Pioneer LDC. It is the second series based on the character Pretty Sammy, Sasami's magical girl alter-ego, succeeding Magical Girl Pretty Sammy and preceding Sasami: Magical Girls Club.
Similar to Magical Girl Pretty Sammy, Magical Project S follows Sasami Kawai, an ordinary Japanese schoolgirl who is given a magical baton by Tsunami, a candidate for the next queen of Juraihelm, in order for Sasami to become her representative on Earth, and thereby granting her the ability to transform into Pretty Sammy. Meanwhile, Ramia, another candidate for queen, seeks to undermine Tsunami by transforming someone on Earth into the evil magical girl Pixy Misa to oppose Pretty Sammy. Soon, Pretty Sammy begins battling Pixy Misa and her Love-love Monsters, unaware that Pixy Misa's real identity is Misao Amano, her best friend.
Magical Project S is noted for its similarities to other magical girl anime that came out in the 1990s, most prominently Sailor Moon, with a familiar "monster of the week" format used for many of its episodes. For this reason, in addition to some humorous criticisms of other aspects of magical girl anime, some consider this anime to be a parody of the genre as a whole.
Broadcast History
Magical Project S aired in Japan on TV Tokyo between October 4, 1996 and March 28, 1997.
The series was released in the United States on VHS in 1999 and on DVD in 2002, only in a subtitled format. All instances of the word, "Sexy", were changed into "Lovely" in some episodes, presumably to keep within the guidelines of Pioneer USA's rating system (the series was rated for 3 and up).
Music