Minaho Masaki is the oldest daughter of Airi and Katsuhito Masaki (her younger sister Kiyone is long since dead) who works closely with Seto Kamiki Jurai.
Minaho is a very efficient worker and often keeps her lady informed about affairs within the Jurai empire as well helping Seto to mettle in the lives with her nephew Tenchi and his friend Seina Yamada, although she has not inherited the playful, almost jokester attitude of her mother.
Background
She is the first daughter of Juraian Prince Yosho "Katsuhito" Masaki and Galaxy Police chairwoman Airi Masaki. She is the older sister of Kiyone Masaki which makes her the aunt to series protagonist Tenchi Masaki and his sister Tennyo.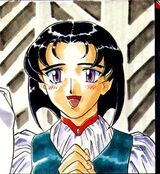 Airi got pregnant by Yosho while the two studied at Galaxy Academy prior to Ryoko's attack on Jurai, but removed her embryo because she knew that her people, the Airians, would certainly kill the child because of their hatred of the Imperial Family of Jurai. However, she eventually had the embryo returned to her, and gave birth normally. Minaho has mentioned that she had been born by the time of Ryoko's attack on Jurai.
Airi performed experiments on Minaho that left her badly scarred on her back. This apparently caused the pair to be estranged for some time, though they have apparently reconciled, at least somewhat.
It is revealed that Minaho helped raise Kiyone, as Airi was busy with work at the time.
Minaho works for galactic political figure Lady Seto, otherwise known as the "Devil Princess of Jurai," as her Intelligence Officer, and is apparently the only one who can manage any form of control on Seto, earning her the nickname of Seto's Leash. She was first introduced in Tenchi Muyo! GXP and is seen semi-frequently throughout the series and in one episode of the OVA series to tell Lady Seto that news of her secret meetings with those involved in the Chobimaru incident was spreading throughout the galaxy and then to later attend her brother-in-law Nobuyuki's wedding to Rea and at the wedding she was lectured about not being married yet by her parents. She is a very efficient worker and seems to be aware of all the affairs of the Juraian empire. Minaho is over 248 years old and is shown to be very professional and sometimes regrets working so closely with Lady Seto. She is bonded with a Royal Tree of the planet Jurai which is the cause of her expanded lifespan.
Gallery