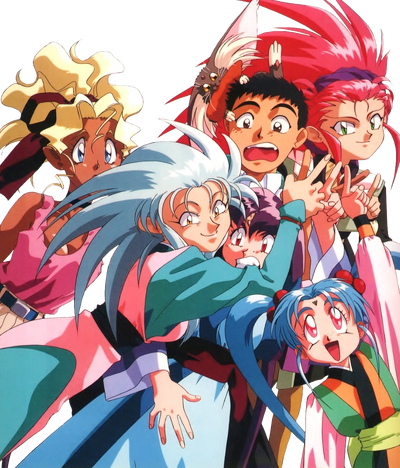 Welcome to the Tenchi Muyo! Wiki (a.k.a. Tenchipedia)
A resource for Tenchi Muyo fans to share their knowledge about the series.
616 articles have been created in this wiki.
Featured News
The entire OVA series is streaming on Funimation and Crunchyroll
Tenchi Muyo! Ryo-Ohki Season 5 has been streaming at Crunchyroll for select international audiences since March, 2020. Season 4 was added in June, 2020. You can click here to sign up.
You can also find the first 3 OVA series, the War on Geminar continuation, and several spin-offs via Funimation's streaming service. You can click here to sign up for this as well.
On March 1, 2022, the announcement was made that Funimation would be rebranded under the Crunchyroll name and content from Funimation would be moved to Crunchyroll. At the time of this writing, none of the Tenchi Muyo series hosted on Funimation have yet to move to Crunchyroll. According to sources in charge of the transition, "the 'overwhelming majority' of titles will make it Crunchyroll eventually," and while that implies a minority of properties will never make the transition, it most likely just means that the process will take a long time.
Toei Animation
On April 16, 2021, AIC announced that they have agreed to share ownership of Tenchi Muyo properties, as well as a number of other classic titles, with Toei Animation. The relationship will help ensure continued and new productions.
Tenchi Muyo! OVA novels have been released in English
All 3 of the True Tenchi Muyo novels, that provide valuable background stories to the Tenchi Muyo! Ryo-Ohki series, written by the original author Masaki Kajishima, have been licensed and translated into English by Seven Seas Entertainment.
You can order the novels by clicking here.
Tenchi Muyo discussion
You can go here to talk about Tenchi Muyo with fellow fans: Useless Tenchi forum.
Tenchi Masaki (柾木 天地) is the main protagonist of the Tenchi Muyo! metaseries.
Tenchi is an ordinary boy living in Japan with his widowed father, Nobuyuki. He is a compassionate, humble, noble, level-headed, and respectful young man, who is training with his grandfather as a Shinto priest and as a swordsman.
A number of alien girls arrive at his house throughout the course of the series, with all of them expressing romantic interest in the young (but innately powerful) boy. Throughout the series, Tenchi learns hidden truths about himself, his role in the universe, and just how powerful and significant he actually is.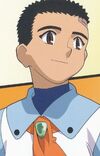 Seina Yamada (山田 西南) is a boy from Earth plagued by extraordinarily bad luck, who lives with his parents that run a small grocery store. He is accidentally enlisted as a cadet to the Galaxy Police, quickly becomes captain of his own ship, and is on his way to many adventures throughout the galaxy. He is the main protagonist of the Tenchi Muyo! GXP novel and TV series.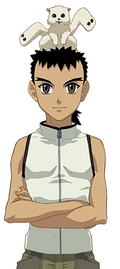 Kenshi Masaki (柾木 剣士) is a hardworking, extremely competent boy, and the younger half-brother of Tenchi. His parents are Nobuyuki Masaki and his second wife Rea Masaki. Kenshi is the main protagonist of the Tenchi Muyo! Ryo-Ohki spinoff Tenchi Muyo! War on Geminar also known as Isekai no Seikishi Monogatari and Saint Knight's Tale.
As part of his mother's mission, Kenshi is sent from his home on Earth to an alternate world.
The fifth season of Tenchi Muyo! Ryo-Ohki goes into the details of how Kenshi was raised and trained for his destined mission while still living what he believed to be a normal childhood.
Series
Movies
Main Characters
Helping out
Not sure where to start?
If you are new to wikis, check out the tutorial, and read our Manual of Style instructions for editing pages in this wiki.
Adding content