We're Getting Mutants in the MCU - The Loop
Play Sound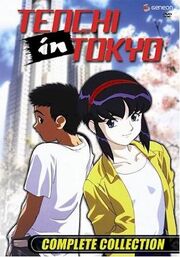 Tenchi in Tokyo!, also known as Shin Tenchi Muyo! in Japan (新・天地無用! "New Tenchi Muyo!"), is a 26-episode television series directed by Nobuhiro Takamoto (高本宣弘) and produced by AIC. It is the third major installment in the Tenchi Muyo! series, succeeding Tenchi Muyo! Ryo-Ohki and Tenchi Universe. It was originally planned to be a continuation of Tenchi Universe, but it transformed into a retelling and re-introduction of the Tenchi Muyo! characters in a new continuity with an original story.
In this series, Tenchi Masaki leaves Okayama for an apartment in Tokyo to become an apprentice at a Shinto shrine. There, he meets Sakuya Kumashino, a girl who attends his high school, and the two quickly develop a romantic relationship to the ire of Ryoko, Ayeka, and the other girls, who continually attempt to interfere with it by frequently visiting him in Tokyo. As Tenchi struggles to decide whether Sakuya or the girls are more important to him, strange occurrences begin happening in Tokyo thanks to the meddling of the mysterious Yugi and her henchmen that threaten to drive all of them apart for good.
Tenchi in Tokyo is a significant departure from previous entries of the series. Most prominently, it has a much more comedic and wacky tone, with "monster of the week" style episodes and instances of deformed animation included with a new art style and character designs. While the main cast of characters return, most of them, notably the girls, behave very differently from normal, being hyperactive and obsessed with keeping Tenchi for themselves.
Broadcast history
Tenchi in Tokyo was originally broadcast in Japan on TV Tokyo from April 1st, 1997 to September 23rd, 1997.
The English-dubbed version was picked up by Cartoon Network in 2000 for broadcast on its US and European Toonami block. The Toonami version was edited for content and featured custom opening and closing credits. Its first US run started airing the day after the conclusion of Tenchi Universe, from August 25 to September 29, 2000. The sixth and final Toonami broadcast of Tenchi in Tokyo ran from April 2 to April 12, 2002, although the final two episodes were not aired before the show was replaced on the lineup the following week by ThunderCats.[1]
After Cartoon Network's rights to broadcast the show expired, the International Channel picked up the rights to air the dubbed version in 2004.
The Spanish dub (co-produced by Cloverway Inc.) was broadcast on Univision.
Music
Opening Theme: "Yume wa doko e itta?" ("Where Did the Dream Go?"), performed by Linda Yamamoto
Ending Theme: "Yamerarenai, Yamerarenai!" ("Unstoppable, Unstoppable!"), performed by the Japanese Tenchi Muyo! cast
2nd Ending Theme (episode 24): "Kataomoi" ("Unrequited Love"), performed by Mayumi Iizuka
Background Music: Shunsuke Kikuchi
Trivia
Gallery
References